Introduction to Practical Entrepreneurship – Growing
From: ₹200.00
Last day of registration: 13th December, 2023
Description
Mode of Workshop :
Online
Session Date :
16th December, 2023
Session Timing :
10:00 a.m. – 01:00 p.m.
Description about the Workshop
Identifies methodologies for first commercialisation.
Presents case studies that demonstrate different ways of growing.
Profile of the Instructor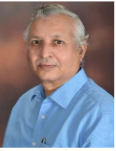 Dr. C. Bhaktavatsala Rao received his Ph.D. Degree in Industrial Management and M. Tech. Degree in Industrial Engineering from the Indian Institute of Technology Madras, Chennai. He received his B.E. Degree in Mechanical Engineering from Sri Venkateswara University, Tirupati.
Dr. C. B. Rao has over forty-nine years of diversified experience in strategic and operational leadership of large, reputed companies including global multi-national corporations, in India. Dr. C. B. Rao's last formal assignment was as Managing Director/Executive Chairman of Hospira Healthcare India Pvt Limited, a Pfizer Company. Dr. Rao is a prolific writer with several publications in economic and business dailies and refereed journals. Dr Rao is the founder of LeadeCrest Academy. Dr Rao has authored and published thirteen books under his LeaderCrest Banner over the last six years. 
Dr C. B. Rao serves as Ajit Singhvi Chair Professor in the Department of Management Studies, Indian Institute of Technology Madras, Chennai. He is non-executive director on the boards of companies. He also serves as adviser to global corporations.
Fees
Fees breakup for the workshop:
Students(UG/PG) :

₹

236 

(₹200

+18% GST)

Faculty :

₹

590  (

₹

500 +18% GST)

Industry:

₹

1800  (

₹1

000 +18% GST)
Learning Outcomes
Provides a detailed understanding of entrepreneurship and start-up development in
practical terms, with relevant concepts and real-life examples
Provides a clear roadmap for establishing and growing a start-up through clearly defined
stages
Highlights the importance of technology and innovation to develop a unique niche for a
start-up
Explains the management principles related to various functions and processes in an
integrated manner
The interactive portions provide additional learning and development scope
In the overall, the programme brings out the multiple aspects of entrepreneurship and
provides a practical pathway with relevant frameworks for start-up development
Intended Audience
Students from any discipline
Faculty engaged in teaching management and Entrepreneurship
Industry/ Start-up professionals.